Newman's Own Organics: A Review and a Giveaway
A month ago, I got to try some of the Newman's Own Organics products when I won at a giveaway that a fellow blogger was hosting. You can read my story about it in this post. A month after enjoying my giveaway prize, I ran out of those yummy goodies. The thing is, all of what I have received have been our favorites. The Pretzels Mighty Minis though was my most favorite. Don't blame me, I am just into salty stuff more than the sweets.
As a home and family, food and product review blogger, the Newman's Own Organics Company was so generous enough to make me a recipient of their whole lot of product samples to try in exchange for a review. And not only that, there will be a giveaway at the end of this post where you guys can have a chance to win some of these food products courtesy of NOO. So please, feel free to join, if you are a US resident.
To show you the plenteous amount of Newman's Own Organics products that I received, these are what I got:
First and foremost, I must say that among all companies that I've worked with, Newman's Own Organics has been extra generous in handing out samples to me. I am not a sweet-tooth-person, but because Newman's products are all organic, I was guaranteed by a not-too-sweet stuff to be consumed. As their company name suggests, everything they have is organic. When it's organic, all of you would agree that it is way healthier than the non-organic, right? So I am indeed a grateful recipient of NOO products!
My personal favorites are the chocolate bars where the Super Dark Chocolate has 70% cocoa in it, the Fig Newmans which are either low fat, fat free, and wheat or dairy free. They are so good to munch and are very tasty. The Family Recipe Cookies is my third favorite and it is my daughter's fave to bring to school for snacks, too! I am such a thankful recipient of NOO products because it is not only me who gets to enjoy them but also my housemates! My most favorite of all are the Pretzels– mighty mini, high-protein, and rods. On the very day I received the box of NOO goodies, this was what turned out with the Pretzel rods that I opened:
Yep, it is everybody's favorite! We have tried a few brands from the grocery stores in the past but they didn't have the perfect taste that we wanted. However, the Newman's Own Organics Pretzels offered the best taste there is for a pretzel! So don't blame me if it is my favorite. Whoever wins the giveaway will for sure gets to try the NOO pretzels so for the winner, I bet you can say the same.
Here's the grateful recipient indulging herself on a Newman's O Cookies!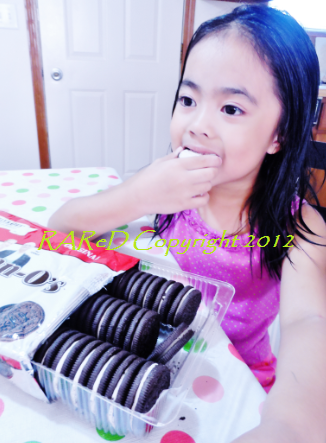 Newman's Own Organics are great-tasting products! And they happen to be organic so you can't ask for more! If you check out the good foods that NOO provides, you will be surprised to know that they don't only have sweet treats but also popcorns, vinegar, dried fruits, hermits, mints, licorice, coffee, and royal tea. The tastes are great and being organic is a bonus!
For more information, visit the Newman's Own Organic website.
You can also check them out at Facebook.
****************************************************************
**************************************************
Now, on to the giveaway. How would you like to win these yummy-tasting organic good foods from NOO? Winner will receive the following:
Family Recipe Cookies
Newman's-O 
Pretzels
Newman's Chocolate Bars
***Plus some exciting surprises***
The mechanics of the giveaway is so simple. If you are a US resident with a valid US address, you are eligible to join. Giveaway will run from November 5 to November 20; winner will be announced on November 21st, just in time for Thanksgiving. Giveaway joiners must follow and complete the rules, otherwise, entry will be disqualified. Winner will be notified using the Name and E-mail Address used when leaving a comment.
US Residents, JOIN NOW!
a Rafflecopter giveaway