McDo on the Go!
I hate it when I craved for something that I couldn't possibly find here. Usually, I crave for grilled fresh fish, green leafy vegetables, and all those simple but absolutely yummy foods that are often served on our table back home in Philippines. It is too painful to think about the yumminess because there is no way for me to have them anytime. Such a punishment at all! LOL.
Last week, I am just glad that one of the instant cravings of my taste buds was a simple McDonald's burger and the favorite Mocha Frappe. So as I did my grocery shopping, stopping by McDonald's was effortless.
The husband hates to line in by the Drive-thru section but he couldn't do anything about it when he's the one on the wheels. Lol.
My order? As requested by my taste buds: a medium-sized Mocha Frappe.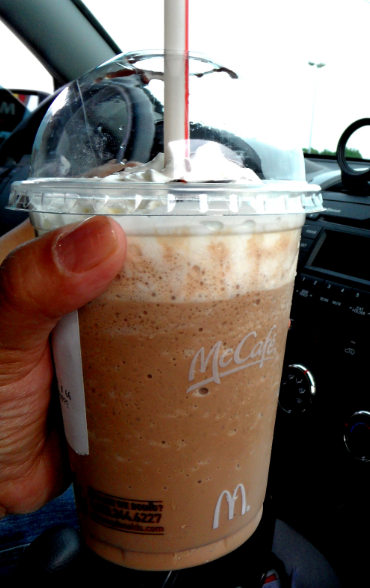 …and the huge Crispy Chicken Burger:
It's actually not that huge for a typical American eater, but it is for me because I can't consume the whole thing. The husband has to eat the other half every time and because he isn't into chicken, he would end up just devouring the bread which is really tasty and delish. While the kiddo? So content with the fries which I especially requested (I always do!) to be unsalted. 🙂
We don't eat out often as we can't live on those dishes that aren't Pinoy (read: meals without rice), and because McDo is one of them, Mcdo for us is always a place for "to-go" or take-out orders. 🙂
And Triz goes, "Mang, why do you have to take a picture of every food that we eat?" Tough luck, I know. She does't realize that it's for my food meme entries like:

😉