Oh yeah, I am so idle in this blog! Aside from the fact that I've been a bit busy the past few days with some offline tasks, I feel like it's too heartbreaking to update this blog because of posting food photos. And more FOOD photos. I mean, who won't get a bit frustrated from drooling over those yummy and delectable foods that we can never eat, just see? Ha ha ha. This time though, I won't let this day be over without posting my dish that I prepared from yesterday's potluck lunch at Camp Wakonda in Westfield, Wisconsin. We spent our Sabbath there at the Campmeeting and I made Vege patties and friend rice to share with our church family.
Here's for a better illustration, LOL:
If it's not yummy to you, I understand. Lol. However, as far as my eaters are concerned, the fried rice and the vege patties were yummy because my food containers were the first ones to be empty when we did our lunch at the Lowry's camper at the campsite! It was truly a great Sabbath day at Camp Wakonda!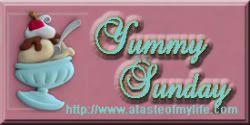 8 Responses to "Potluck Dish @ Camp Wakonda"